Paddle Tennis Products
from Our Company
Based in Los Angeles, California


ILovePaddleTennis.com is a company based in Los Angeles, California, that is owned by Paddle Tennis Hall of Fame Inductee, Sonia Ode Lucci. Sonia promotes the sport and offers paddle tennis products from Wilson® at tournaments and clubs. These products are also available nationwide through USPS shipping.

What is Paddle Tennis?

Paddle Tennis is a sport that is quickly growing in popularity. It was invented before tennis and is great to learn in preparation for tennis. Using the same scoring and the same style ball, this game is played on a smaller than an average court. Here's an instructional video on how to convert a regular tennis court to a court which is the proper size to play Paddle Tennis, called "Paddle 2 Go":


About Sonia Ode Lucci



With more than 28 years of experience, Sonia is the # 1 Women's Doubles Champion in Paddle Tennis. Known as one of the best, she is a professional that has taken her game to the next level. As a top-level athlete, Sonia is sponsored by Wilson® and plays using only paddles made by:





► For Wilson® Paddles and all racket sports purchases, go to: Paddles4less.com



Here's Sonia at the Florida Nationals Open Division on May 23, 2015!
She included a photo of the winners, Luke and Ryan, also for your enjoyment!


NEW PADDLES!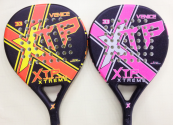 The newest XTP Venice 33mm paddles are the Orange and the Pink Solergy, pictured here!
They will arrive the first week of May, 2014, and you can get them at www.paddles4less.com!
They have more texture for spin and control, so look for them!

The "Pink Solergy" Paddle is even more special because it was designed to bring awareness of
The Breast Cancer Research Foundation,
and a percentage of the sale of EVERY Pink Solergy Paddle will be made
to this important foundation!
And just by playing this wonderful sport!



And be sure to visit:

Maximo Beauty Salon
— The Official Paddle Tennis Beauty Salon! —
12827-1/2 Washington Place
Culver City, CA
call: Lupe at (310) 989 6224
(Mention PADDLE TENNIS and receive a Special Price!)



Want more info or want Tennis or Paddle Tennis lessons
taught by the Women's National Doubles Champion?
Then contact:

Sonia Ode Lucci
imsolergy@gmail.com
(310) 592 1108